---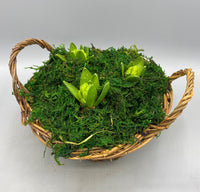 This 18cm wicker planted arrangement with ear handles is planted with 3 of our lovely Hyacinth bulbs. Coming in pink, white or blue. This planter can be used indoors or outdoors and is a great gift for friends and family. 
 If used indoors the hyacinth will flower more quickly and may need sticking for support. If used outdoors the hyacinth will flower more slowly and will most probably not need any support. Hyacinths are wonderfully scented when they flower, so are a lovely addition to any home.
Get into the festive spirit this Christmas and put a smile on your loved ones faces.