---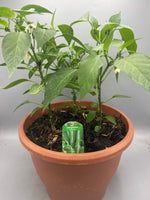 Sale
Now sold out, but we have Basket of Fire Pepper patio pots available for the same deal price. 
Click the link below.
These fantastic large (7.5 litre) patio pots are planted with 3 well established Jalapeno plants which are flowering and ready to fruit well in time for summer. Put this straight onto your patio, keep watered and fed and reap the rewards of your own Jalapeno peppers which you can use in cooking or freeze to last you through the winter.