---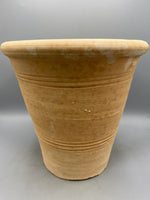 Sale
50% OFF. We have a great deal for our customers on these hand made Elegant Striped design terracotta pots.
These Elegant Striped design terracotta pots are beautifully hand crafted and would make a lovely addition to any outside space. Coming in a range of 5 sizes, there really is one for every situation, if you're looking for a statement pot to house a palm or small tree or looking to grow some herbs on a patio.
The largest sizes are very big so please take tis into consideration. The Elegant Striped design is a modern looking pot with all the benefits of classic terracotta for growing in (better moisture control, cooler roots and generally healthier plants). With a nice large planting area there's lots of room to make a gorgeous display. 
You will struggle to find better pots for a better price anywhere.
Please note that the colour and size will differ slightly from pot to pot due to the hand made nature of these pots!