---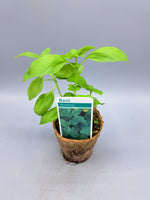 We have gorgeous basil plants which are fantastic for pasta sauces amongst various other things. This variety is named Genovese and is widely known for its use to make Pesto Sauce.
Remember to water your basil plants regularly and break of any tips needed for cooking as this will encourage extra growth.
Grown in a coir pot which can be planted straight into the final container as it will decompose.