---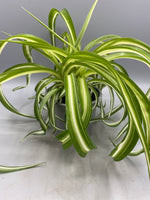 Our Curly Spider Plant (Chlorophytum Bonnie) is as the name suggests a spider plant with fantastic curly leaves. This plant is far less common than standard spider plants, a great addition to any houseplant collection.
Your Spider plant will grow to around 30cm high and wide so it can sit on a window sill comfortably or work as a centre piece on a coffee table. 
Spider plants are notoriously easy to care for which makes them a fantastic house or office plant. They can survive and thrive pretty much anywhere, bathroom, kitchen, hallway etc, including low light areas. Just be careful of the tips going brown if they are left too dry in full sunlight. Your spider plant will grow lots of baby spiders which you can take off, re-pot and grow yourself some more. This process is really easy and rewarding.

The spider plant has also been proven by NASA to remove around 90% of the potentially cancer causing chemicals from the air, which is another added bonus.
Like nearly all of the plants we sell, these are propagated and grown here on the nursery so we can guaranteed top quality and value for money.