---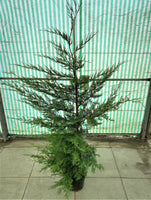 British grown Leylandii hedge is the most economic option to achieving a hedge at or above eye level that will thicken out into a dense hedge over the next few years without costing a fortune.  These plants are all sold as 5-6ft (150-180cm) in height from the top of the pot and are grown in a 10lt pot so will quickly establish in your garden after planting.
Leylandii are a fast growing evergreen and these plants will put on 2-3ft (60-90cm) each year if left untrimmed, so will not take long for these plants to produce a thick hedge that cannot be seen over.
Leylandii produce a dense hedge barrier to provide visual privacy as well as absorbing sound and noise pollution and being a haven for nesting birds.  Recent studies have shown that conifer hedges are particularly good at absorbing general pollution through their leaves and generally improving the air quality.
Once the plants have reached their desired height, we recommend that it be trimmed at that height which will both encourage side growth and restrict upward growth to a manageable amount.  A leylandii hedge needs to be trimmed annually in the spring or autumn.
6ft leylandii hedge plants should be planted 2ft (60cm) apart stem to stem and if they are planted during the drier summer months, they must be properly watered in their first year to ensure that they establish properly. 
Plant Leylandii with John Innes compost and some Osmocote  fertiliser for best results. Remember to water very regularly in the first year.