---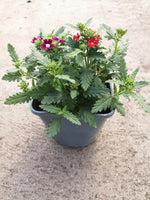 Verbena is a particular pretty flowered plant. Keep an eye out for the bi-colours which are spectacular. These plants are perfect when used in combination planting schemes, such as hanging baskets and patio containers.
The variety of Verbena we use in our 2L pot is called 'Obsession' which has a more upright and mounding habit. This means is will not get too straggly. Verbena will flower all summer long and to encourage strong growth make sure to take off dead flowers and fertilise regularly.
We plant 3 plants into each pot so you get a lovely pot full.