---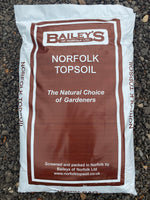 We believe in quality, and it all starts with our topsoil. Many topsoils are manufactured from by-products, for example, vegetable washings mixed with materials such as sand, sawdust and compost. Topsoils are complex ecosystems, the microbes and fauna within them play an important role in maintaining a healthy soil and promoting plant growth.
Our topsoil is 100% natural, and carefully sourced from Baileys in Norfolk who are renowned for their quality. It is minimally processed by being screened to 10mm in order to remove larger pebbles and stones.
Bailey's Norfolk topsoil forms the basis of many of the topdressings and growing blends that they sell to professional groundstaff and greenkeepers.
These bags are heavy and can be difficult to lift, we can of course delivery to your garden if needed.